$600.00 – $2,499.99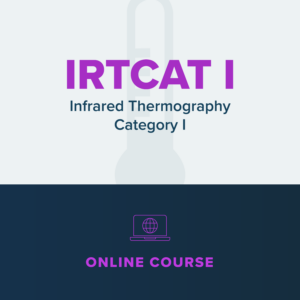 This item:
IRTCAT-I (US) Infrared Thermography Course - Online
Description
Online, single-user course with a 4 month access license or life long learning license.
Learn forever with Mobius Institute "Life Long Learning". For a nominal fee you can upgrade your distance learning course access as a past, present, and future Mobius Institute student. You can continue to access the training videos forever. To upgrade either select the option – Life Long Learning Upgrade or contact your training partner directly.
FREE DEMO: See a preview of the IRTCAT-I course. Included is segments from our instructional videos and a chapter from our comprehensive IRTCAT-I manual. You can access the training demo with your student credentials or create a new account using this link – IRTCAT-I Course Demonstration Link.
This course will prepare you for life as an infrared thermographer. You will learn the fundamentals of infrared energy and the camera, and you will learn about the most common applications.
With the assistance of the Mobius Institute interactive simulations, 3D animations, and case studies, you will not be required to have a great memory to learn all of the facts and concepts, instead you will understand the 'science' of infrared thermography, you will understand how the camera functions (and thus how to collect good data the first time), and you will learn about the mechanical and electrical failure modes of plant equipment so that you can accurately and confidently detect and diagnose a wide range of fault conditions. You will come away from the course with the knowledge and confidence to be successful as an infrared thermographer.
Once you complete the training  you will be eligible to take the exam to become certified by the internationally renowned Mobius Institute Board of Certification [MIBoC] to ISO 18436-7 Category I. To be certified, you will need to achieve a minimum score of 75% of the 50 questions. The MIBoC certification is one of the only international programs accredited to ISO/IEC 17024 – there is no higher standard in condition monitoring certification. You will also need to pass the Ishihara color perception test, also known as the color vision test, to measure your ability to tell the difference between colors. The Ishihara test checks for red-green color blindness.
Exam Information: Optional certification examination is available after course completion.  It will be offered via our Invigilated Exam Process.  For more information visit: https://www.mobiusinstitute.com/independently-invigilated-certification-exam/
Please note: 12 months of experience is also required for ISO certification.
Additional information
| | |
| --- | --- |
| Course Access | 4 Months-$1899.99, Life Long Learning – $2499.99, Life Long Learning Upgrade – $600 – ONLY for previously purchased course |